In this article, we dive into a captivating comparison that often stirs curiosity: security guards and police officers. These two professions, though distinct in their roles, share commonalities that make them vital cogs in the wheel of public safety. If you are interested in a career in security or law enforcement but aren't exactly sure what the connection is between the two, get ready to unravel the differences and similarities that make these roles unique and essential for our communities.
The Role of Security Guards
The first thing to remember is that security is not law enforcement. A security officer's or guard's jurisdiction extends to specific locations or private businesses like hospitals, malls, airports, office/commercial buildings, schools/universities, industrial sites, and more. They are responsible for keeping the property and its people safe from a myriad of issues. Among many other responsibilities, security professionals enforce policies, respond to emergencies, mitigate criminal activities, and enforce security protocols. They also have a crucial role in educating the public and being customer service champions for their sites.
But the job of a security officer goes well beyond protecting property and manning events. Many times, security professionals perform life-saving actions and become heroes of our communities. A number of our Paladin officers have been honoured with the Canadian Security Lifesavers Award for doing exactly that, whether it be resuscitating someone, preventing a suicide, or assisting with critical incident first aid.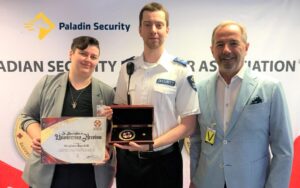 A job in security can turn into a lifelong, fulfilling career with endless growth opportunities. It can also act as an ideal steppingstone for a career in law enforcement. It's very common for police officers to have a background in security, as it helps prepare future candidates for the role. In fact, Paladin Security offers prestigious developmental training programs like Paladin to Policing, which is available to all Paladin employees who seek to improve their chances of securing a career in law enforcement. 
Check out some security-to-policing success stories!
The Role of Police Officers
Both security guards and police officers are entrusted with the responsibility of maintaining public safety, but the extent of their authority varies. Police enforce the law, and their jurisdiction extends beyond private property and into the broader community. They also deal with crime prevention, assist crime victims, conduct investigations, maintain public order, and take part in emergency response. Police also have a duty to the community they serve. Oftentimes, they also host public information sessions with young people or seniors.
Training
Training at each security company varies widely. At Paladin, it's not something we take lightly, as we have earned a national reputation as the leading security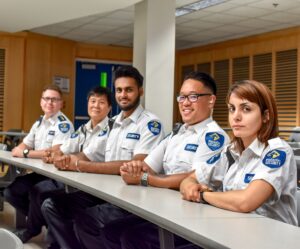 training organization within the security industry. Our robust pre-deployment, on-the-job, and company-funded training programs cover everything from customer service and communication skills to emergency response and risk assessment. Additionally, through an internal online learning platform called Paladin University, employees can enhance their skills and knowledge with over 200 courses available to meet their career goals.
Police officers typically undergo extensive training at academies, covering areas like law enforcement tactics, criminal law, and crisis response. They're prepared to handle a wide range of situations, from traffic stops to high-risk crime scenes.
For more information on the initial training involved in becoming a police officer, check out our blog on How Hard is the Police Academy and Physical Fitness Requirements.
With specialized training, both security and police officers have the authority to carry role-specific Personal Protective Equipment (PPE) such as tactical vests, duty belts, and batons; however, only Police are able to carry the following in Canada:
Pepper Spray
Tasers
Firearms
Extra ammunition
Qualifications
One of the biggest differentiators between security and police is the qualifications needed to be able to apply. Here are the basic requirements for becoming a security officer:
Be a Canadian or Permanent Resident
High school diploma or equivalent
Must pass a criminal background check and obtain a security license
Physical ability to complete the duties of the role
Excellent verbal and written English communication skills
Minimum age (varies by province) but is usually 19 years of age
LEARN MORE: How to Become a Security Guard in Canada.
Depending on the province you are working in, security officers or guards need to be fully licensed and undergo mandatory basic training. At Paladin, we support our people with licensing costs and their required preparatory training. Check out our blog on how to get your security license for more information.
Meanwhile, the following list of application requirements applies to most police agencies:
Must be 18 years of age
Fluent in English
Hold a Class 'G' driver's license, full driving privileges, and a maximum of six demerit points
Have good character
Be in excellent health
Be a Canadian or Permanent Resident
Have valid current standard first aid/CPR "C" certification
Meet the necessary level of physical abilities, vision, and hearing standards
Have no criminal convictions and no charges pending
For more information, read our blogs on Careers in Law Enforcement.
Collaboration for Safety
Despite their differences, security guards and police officers often find themselves collaborating to ensure public safety. In many situations, their roles intersect. Police officers might respond to incidents that occur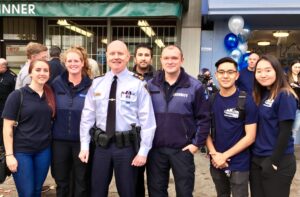 on properties patrolled by security guards, or security personnel may assist police in managing crowds during large public events. This collaboration underscores the importance of teamwork and communication between these two professions.
One key similarity lies in career development and promotion from within. This parallel is evident in fields like law enforcement, where individuals begin as beat officers and gradually ascend to roles like Detective or Sergeant. At Paladin, we approach career progression in the same way. While many applicants start on the front line as security officers, many end up becoming supervisors, managers, or even executives. In fact, many of our current leadership team members started their careers in entry-level roles, so you know we practice what we preach.
Read more about our promotion-from-within philosophy.
Shared Values: Dedication to Service
Both security guards and police officers share a fundamental commitment – a dedication to serving and protecting the community. Each day, they step into their roles with a shared goal: to ensure the safety and well-being of those they serve. This common value forms the bedrock of their work, bridging the gap between them and fostering a sense of unity in the realm of public safety.
If you're ready for a career that allows you to make a real difference in your community while also providing personal growth and career advancement, check out our careers page. It could be the start of an exciting and fulfilling career or your first step if you are pursuing a career in policing.
Be sure to listen to The Difference Makers podcast and read our blog to learn more about Paladin and the exciting world of security.
Reader Interactions