THE LEADER IN OFFICE SECURITY
We make a great first impression, and one that lasts. Paladin delivers an exceptional guest experience with excellent customer service, on-point deportment, and a desire to build rapport with building tenants they see regularly.
Our teams are engaged in the role of providing professional services to property management companies in every environment. Taking a service-oriented approach, we integrate highly trained security concierge teams with state-of-the-art security technologies. By designing security programs that improve your safety and security while providing the greatest benefit for our customers' security spend, we drive exponential value for you.
For office and commercial high-rise environments, we offer:
Concierge services
24/7 mobile support
24/7 operations centre support
Integrated downtown communication between properties
After-hours issue & maintenance support
Special event security & ad-hoc requests
Fire safety & business continuity
AWARD-WINNING SECURITY SERVICE
Our constant drive for improvement has seen us gain recognition for our customer service, innovation, and dedication to go above and beyond. We've been awarded BOMA Pinnacle and Consumer Choice awards in nearly every city we service, and have led the industry by receiving a variety of awards at the national level.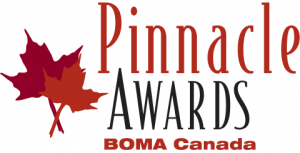 EXPERT INSIGHT INTO THE UNIQUE WORLD OF OFFICE SECURITY
Commercial office buildings require a layered approach to security that integrates customer service, technology, and training to produce the desired quality program. Paladin goes to extraordinary lengths to ensure our staff members will exceed your expectations. Through a combination of attentive management, patrol verification systems, and 24-hour operation control centres, we supervise and support our staff in ways other companies can only dream of.
Tenants need friendly security officers who combine exceptional interpersonal skills with superior security knowledge to provide a safe, secure environment for employees and visitors.
Property managers need a progressive security program that is based on best practices and responsive customer service.
Building owners and asset managers need to know that their assets are protected, their risk exposure is limited, and their building's value is improved through the use of a professional service provider.
When you use Paladin Security, you are not simply benefiting from the services of an on-site security officer, but an integrated team of protection professionals.
Hudson Pacific Properties is a real estate investment trust with 19 million square feet of primarily office buildings and studio properties on the West Coast of the United States and Vancouver.
Paladin provides outstanding customer service from well-trained people who meet our demands. They ensure their security officers are trained specifically on our site and their management support staff makes sure they are connected to our business.
KEY SERVICES FOR Office & Commercial High-Rise
WE'RE HERE TO HELP
At Paladin, we will take the time to understand the security challenges you face and help you develop an integrated program customized to address your individual situation, needs and budget. Contact us today for a free consultation.