Paladin has earned a national reputation as the leading security training organization within the security industry, and we have achieved such a prestigious title thanks to our outstanding training experts. Meet some of our featured Paladin Trainers: Diana Drazek, Xavier Youngsue, Alessandro Caperna, Sean Crawford, Anthony Suppa, Noah Tufts, and Norm Bettencourt.
Meet Julius Sosa
Julius has always had a strong passion for serving his community. His ultimate career goal is to become a police officer, and he is well on his way to achieving this goal. In order to build his confidence and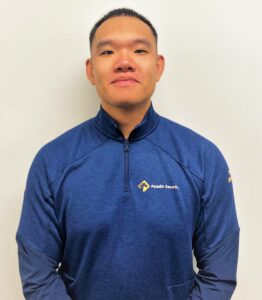 communication skills, Julius decided to pursue a career in the security industry as a security guard. He has now been at it for 14 years, and during this time, he has worked in a variety of different sites, such as commercial buildings, malls, and hospitals.
Becoming a Better Person & Leader
The majority of Julius' experience in security has been in the healthcare industry. He has worked his way up to becoming a team lead and supervisor, managing a team of over ten security guards. This experience has helped him become a better person and improve as a security professional.
"Working in a healthcare environment has helped me become a better person by being more patient, compassionate, empathetic, respectful, and confident. I believe these traits are the foundation of a great security professional. They have also helped me become a better mentor to my team," said Julius.
Julius' progression within Paladin is admirable and a shining example of our CARE culture and Promotion-from-within Philosophy!
Preparing Newcomers to Security
Julius believes that providing leadership and motivation to new guards is crucial. He wants to assist and support new guards in achieving their goals. Currently, Julius is a Training Instructor for Paladin, where he is able to use his knowledge and skills to guide and prepare new security guards. As a Training Instructor, he understands how important it is to provide new security professionals with the tools they need to succeed.
From Paladin to Policing
Julius' journey in the security industry has helped him build the skills and traits necessary to become a successful police officer. He believes that the security industry is a great starting point for anyone interested in law enforcement. The skills he has gained through his experience in security have prepared him for the challenges he will face as a police officer in the future.
Prestigious developmental training programs like Paladin to Policing are available to all Paladin employees who seek to improve their chances of securing a career in law enforcement.
If you want to start a meaningful career in security and make a difference in your community like Julius, check out our careers page.
Ready to kickstart your career in security? Here is a guide on how to become a Security Officer and a free downloadable template to write the ideal Security Guard resume.
Also, be sure to listen to The Difference Makers podcast, where our security professionals talk about what makes Paladin's training so unique and why continuous education is vital.
Tune in with Senior Trainer/Facilitator Norm Bettencourt about The Power of Proper Security Training and how an empathy-led security model and a compassionate approach to people with mental health issues, truly make a difference: