On the third week of September, we come together to celebrate our everyday heroes and honour our security officers who tirelessly work to keep us safe day in and day out. It's National Security Officer Appreciation Week 2023, and we couldn't be more excited to show our gratitude and respect for these remarkable professionals who often go unrecognized.
Recognition and Empowerment
Security officers are the unsung heroes who safeguard our workplaces, schools, hospitals, malls, and public spaces. At Paladin Security, we know that every uniform represents action in the name of safety, and we take it upon ourselves to truly recognize and award the outstanding actions of our family of security professionals.
This year, we were proud to unveil our new employee recognition program that aligns perfectly with our CARE Culture, the CARE Awards! There are four values we celebrate: Being Curious, Being Accountable, Being Respectful and Being Exceptional. All categories come with a prestigious monetary reward, a certificate, a personal letter from Paladin's leadership, a special feature in the company-wide newsletter, and a distinguished spot in the CARE Award records.
Each month, Paladinians across Canada are nominated for the award that best fits their CARE action: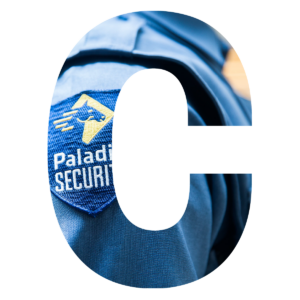 CURIOUS AWARD
A Curious Award winner is someone who loves thinking creatively. They're always asking questions and finding ways to make things better. These folks go beyond their usual tasks to give outstanding customer service, bring positive change, and make things run smoother.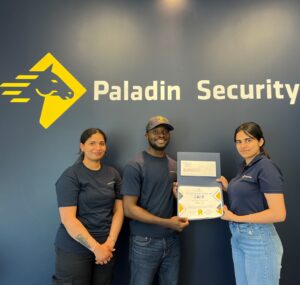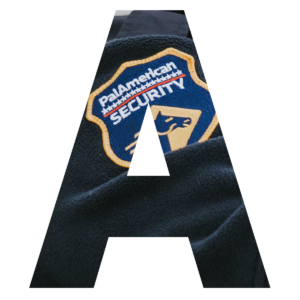 ACCOUNTABLE AWARD
The Accountable Award seeks a steadfast, dedicated, and dependable team player. It's designed to honour Officers who are essential to their teams and valued for their consistent commitment. These security professionals consistently pour their best into their work, embodying the company's values with pride and honesty.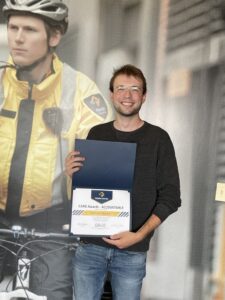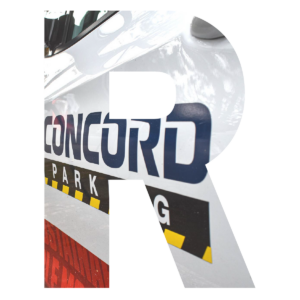 RESPECTFUL AWARD
The Respectful Award centers on exceptional Customer Service. This person consistently fosters a positive atmosphere for colleagues and peers. They uphold high standards by presenting themselves impeccably in uniform and punctually attending shifts. They exhibit care for their team and embrace diversity, creating a harmonious workplace.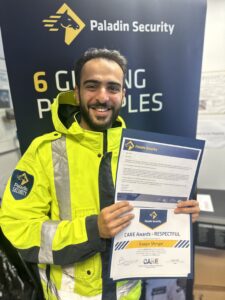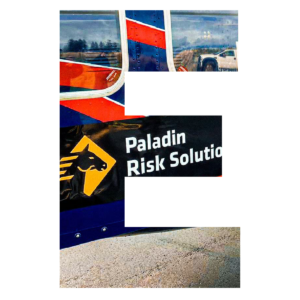 EXCEPTIONAL AWARD
The Exceptional Award is usually a result of an outstanding action. This may be a situation where an Officer went above and beyond the call of duty in an exciting or unusual circumstance.  The quick action, assessment and response from this individual will determine the worthiness of this award.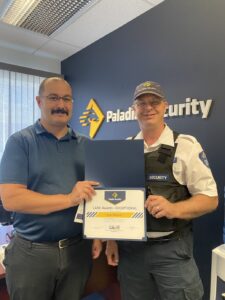 24-Hours of Thanks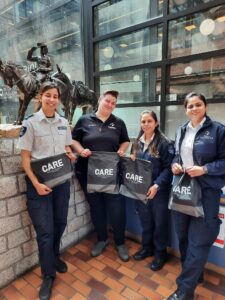 Every year, office teams embark on a heartwarming 24-hour journey to visit all the sites where our dedicated frontline staff pour their hard work. They come bearing special gifts called "CARE packages" and, most importantly, open ears to listen to their incredible stories. This beautiful tradition isn't just about delivering goodies – it's a chance for our Paladin Family to come together, share experiences, and truly honour the remarkable efforts of our security professionals. Their dedication keeps us safe, and this is our way of saying, "Thank you for everything you do!"
Tenure Pins and Challenge Coins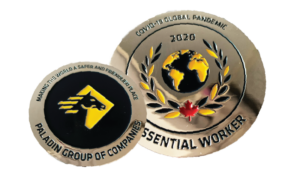 In order to celebrate our employees' tenure accomplishments, we issue Paladin pins and plaque awards to staff for 5, 10, 15, and 20-year tenure milestones. Challenge coins, which represent a team, achievement, anniversary, or special event, were also awarded to staff to thank them for their role as Essential Workers throughout the COVID pandemic.
External Security Award Programs
Another fantastic way to recognize our frontline security heroes is through prestigious award programs like the Canadian Security Lifesaver Association®(CSLA). Their mission is to celebrate, enhance, and promote security professionals who, through their courageous actions, have prevented a potentially life-threatening injury or loss of life through quarterly awards and social media engagement.
We always like to commend all our lifesavers and take the time to applaud the amazing work they do every day!
Other recognition programs where we put forward outstanding nominations to acknowledge security professionals include the International Association for Healthcare Security and Safety (IHASS), Outstanding Security Performance Awards (OSPA), and more.
When we acknowledge the hard work of security officers, we boost their morale and let them know that their contributions are valued. This, in turn, can improve their job satisfaction and dedication, leading to even better service for our communities.
How You Can Show Appreciation
Whether stationed at your local school, workplace, shopping mall, hospital, residential building, or any other place, security professionals are a crucial part of the fabric that holds our society together. Here are some great ways to show them how much you appreciate and recognize their work:
Say Thank You: It might seem simple, but a heartfelt "thank you" can go a long way. If you encounter a security officer during this week, take a moment to express your appreciation for their dedication.
Write Notes of Gratitude: Encourage your friends, family, and colleagues to write notes of appreciation to security officers in your area. Even a small note can brighten their day and let them know that their efforts are recognized.
Social Media Shoutouts: Share stories, anecdotes, and pictures of security officers you encounter on social media. Use the hashtag #NSOWeek to spread the love and raise awareness about their important role.
Gifts and Treats: Consider organizing a small gathering or providing some treats for security officers in your community. This gesture not only shows appreciation but also fosters a sense of community spirit.
Support Their Well-Being: In addition to their physical safety, security officers also face mental and emotional challenges. Encourage employers and institutions to provide resources and support for their mental well-being.
Participate in Events: Many communities organize events during National Security Officer Appreciation Week. Check local listings to see if there are parades, ceremonies, or other activities you can join.
Let's make this week one to remember for all the right reasons – by showing our respect, admiration, and gratitude for the dedicated security officers who work tirelessly to make our world a safer and friendlier place.
Happy Security Officer Appreciation Week!
Learn More About Security
Be sure to dive into The Difference Makers podcast, our blog, and social media to learn more about Paladin and the exciting world of security. Check out some of our security webinars below!
If our everyday heroes inspired you and are interested in starting a meaningful and rewarding career in security, check out our careers page. Unsure about how to submit a strong resume for a security position? Here is a free downloadable template to write the ideal Security Guard resume.
---